Go to Penny's Pages: 2001 Where it all began 2002 Life Continues _Random Pictures_ _Californa trip_ _Winter Wars II_ _IKF Nationals 2001_ _Snowboarding_ _Taipei_ _Taichung_ _Thanksgiving '00_ _Fight Bio

Last update was posted on June 4, 2005.
Hi. I'm "The Punisher" and welcome to my current web page! I've recently reformatted so you don't have to slog through everything on one page. I put everthing in 2001 and 2002 separate pages (links are up at the top). If you are new to me you will want to look those pages over since they cover all my interests, gyros (as in the aircraft not the sandwich), folk dancing, motorcycles, traveling, and of course kickboxing! There are also some general things of interest, like a public mini-diary of my life over the past few years. Read on below for current stuff. Enjoy.
Gosh! It's been a long time since I've done anything with this page. I hope you will accept my apologies but raising a baby and working full time sure keeps me busy.

(October 2, 2004)We have a daughter!!!! On September 29 at 9:33 pm, Caroline entered this world to meet us. She weighed 9 lbs 9 oz and was 21 inches long. She's a wonderful baby, sleeping a lot, feeding well and contemplating the world around her with big eyes.

(July 27, 2004) Wow!!! It's been over 7 months since I last posted. So much has been happening I guess I got busy. The BIGGEST and BEST news is that I'm having a baby!!! The ultrasound said that it's a girl and she is due on September 14. As you can infer, I haven't been fighting or training for quite a while. This is a whole new chapter in my life but I'm very excited about it.

To prepare for the little one, my husband and I bought a house (you really can't raise a child in a one bedroom condo). It's a brick ranch style house in Sandy Springs with a great backyard that is all vines and trees and a great neighborhood. We closed in the end of April but finally moved it the beginning of July. Now it's just unpacking and arranging and waiting for the big moment that will change the rest of our lives.

(December 6, 2003) I'm married! We had the wedding on November 29. It was a blast. Just a small affair at a restaurant nearby with our family and a few friends.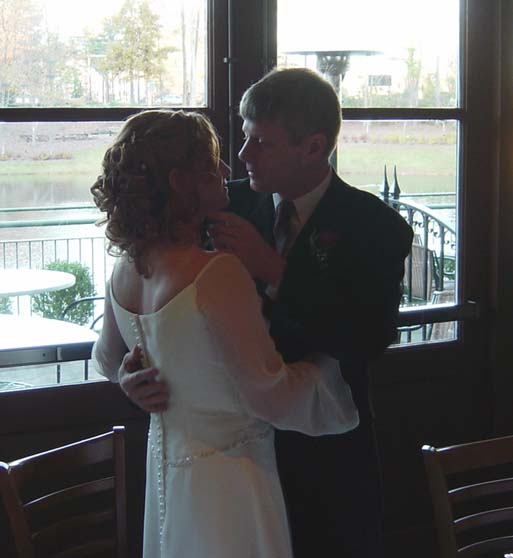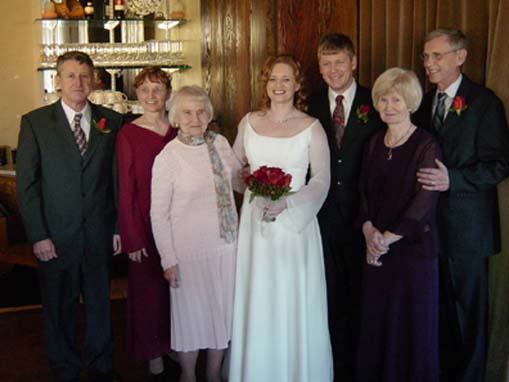 (September 21, 2003) Here's a few pictures from the tournament in Virginia (see paragraphs below). As ever, it's hard to get good action shots. I didn't want to clinch much but my opponent had other ideas. The final picture is of our little team that went to the fights: Phillip (fighter from Birmingham), Polo (fighter who came as cornerman), Richard Trammell (my coach), and me (of course).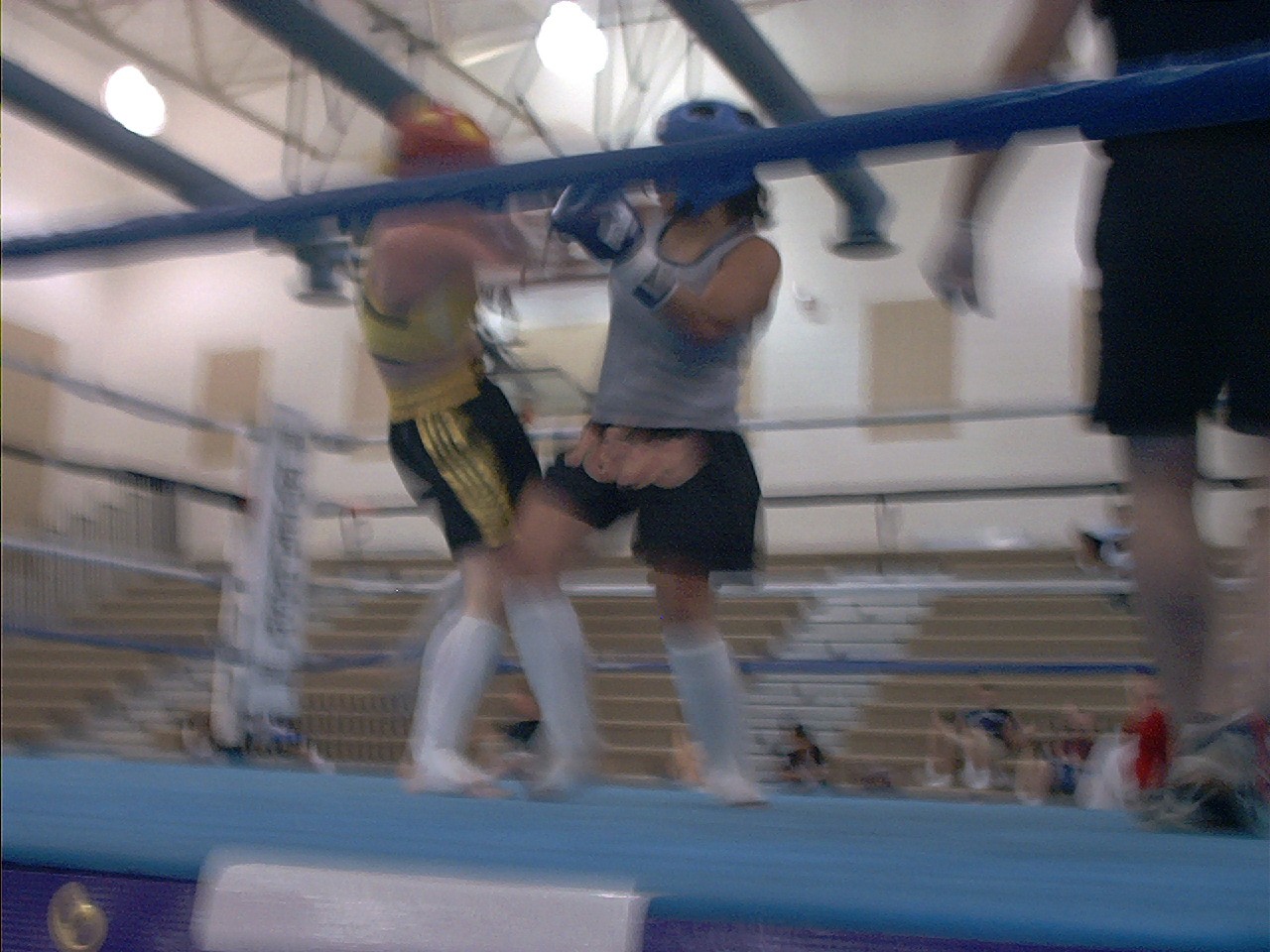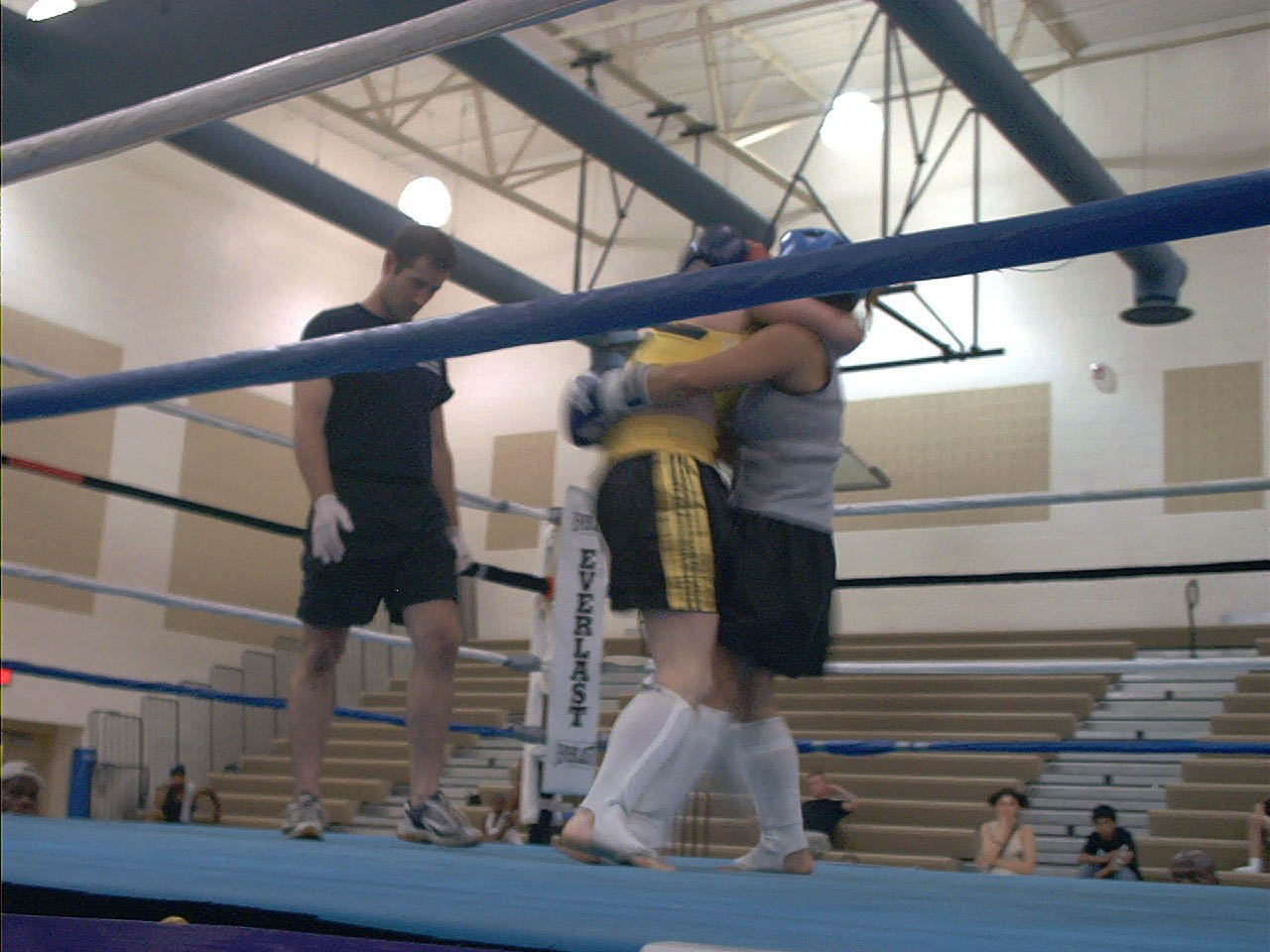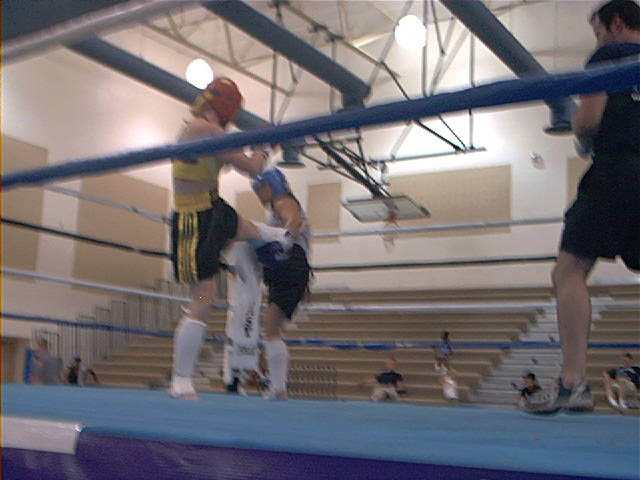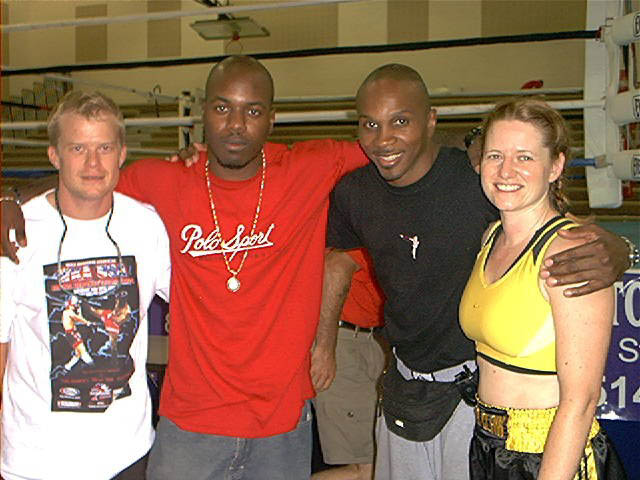 Now for the news: I was supposed to fight for the WKA Southeast Muay Thai title belt on October 11 and then I had another Muay Thai fight lined up for October 25 but they have been canceled.... The reason, I have slight damage to two disks in my neck (C5 and C6). They aren't that bad off themselves but they are pinching a nerve that is causing me pain down my back and under my shoulder blades. This is most likely the reason I have been in pain in those areas for the last year (I thought it was a torn muscle). I will be getting treatment for the swelling and pain but the damage has been done. It doesn't mean the end of my fighting but I have to stop for a little bit to get things under control. I plan to be back in fighting shape early in 2004.
| | | | |
| --- | --- | --- | --- |
| | | | |
| | Meanwhile I have some fabulous news! I'm getting married! The wedding will be November 29. It's going to be a very small affair with only close family and a couple of friends. So, maybe it's OK if I take a break from the relentless training for fighting while I'm trying to plan and be ready for the wedding that is coming quickly around the corner. My fiancee's name is Ben. He is from the Atlanta area. He trains in Goju, Wing Chun, and Mixed Martial Arts but he doesn't fight. He is very good at taking care of me. Here's a picture of him: | | |
(August 3, 2003) Sorry for the delay. I know you want to know about the national tournament. Well, it was a good weekend and the event could've been a little more organized. I waited from 10am to fight at 4:30pm with just about 5 minutes warning. There were no women in my weight at International rules so I fought my first fight Muay Thai.
I got pretty rocked in the first round but I started to get the hang of it in the second round. However, being the semi-finals, there was only two rounds and then it was over and my opponent advanced to fight in the finals. I have it on video and also have some pictures I hope to post on a new page shortly. Keep checking in.
(May 3, 2003) Howdy everyone. Still in the process of moving so no new picts to show you. The latest fight update is that I am aiming at fighting at the WKA National Tournament in Richmond, VA on July 19. The top 3 fighters in each weight class qualify to participate as part of the USA team at the World Championship Tournament in Antwerp, Belgium in the end of August. That would be the COOLEST thing in the world! I'm already pricing flights to Brussels. I would like to fight International Leg-kick rules so let's hope there is some decent competition out there for me.
(April 8, 2003) Big things in the works! I haven't been able to update with pictures because I've disconnected the internet access at my apt because I'm moving out of my apt and in with Ben. When I get the computer set up at OUR place :) I'll be able to access my webpage program and give you more fight pictures (and maybe picts of Ben too).
Meanwhile, training goes on. I'm learing knee strikes to fight in June against a girl who does Muay Thai. If we can swing it, the fight will be for the ISKA Southeastern Title Belt. This will be my toughest fight thus far. It will be in Atlanta if you're interested in coming to watch.
(Febuary 4, 2003) Sorry the fight picts didn't turn out much. Next fight should be April 26 in Atlanta. No other news than that. I'm concentrating on this Master's Accounting class for now. Although not taking a total break from my kickboxing. In fact sparring last Saturday I walked into a nice right cross and have the most beautiful black eye on the left side (see pictures below). Hopefully it will go away before my dance performance this coming Sunday... or at least enough to cover up with makeup. Note on the pictures. My mom doesn't like looking at the really bad one so I've also put in one that was shot that evening. The fully developed bruise is from 2 days later. I figure though, if you want to see it you should see it in all the gory glory.
(January 18, 2003) Happy New Year everyone! I know it's been a long time since I updated but I couldn't access the site files for a while. Anyway, the fight was last night and I won. It's a long story but I didn't fight the girl that I was originally going to (see 2002 page in Dec) I fought one of her teammates who lost 10 lbs to fight me at 135 lbs. It was a great night and I appreciate everyone who called to wish me luck and all who came to the fight.
That's about it for now. I'll keep changing and updating this site as I live more. If you have any pictures you would like to see, send them to my email at Penny "the Punisher" . I'd be happy to upload them (if they are in good taste). Bye y'all.